Coloring books for kids is an excellent opportunity to introduce your child to an imaginative world. It keeps them from wasting away in front of an electronic device.
It's a fun way to distract and entertain your child while learning about the colors, shapes, and numbers they need to know. Coloring is relaxing and creative. It unleashes the imagination, which your young one needs to develop in the most fundamental ways.
These coloring books for kids are designed with stimulating lines and patterns to help develop their minds. It works by giving them the ability to hold the crayon or markers to color within the lines.
It would be best to choose which book is most suitable for your child based on his or her age, and there are so many choices. Often these books follow a theme; some tell stories that you can read to your child as they complete their work of art.
Free Personalized Coloring Book from Smart Story
Top Pick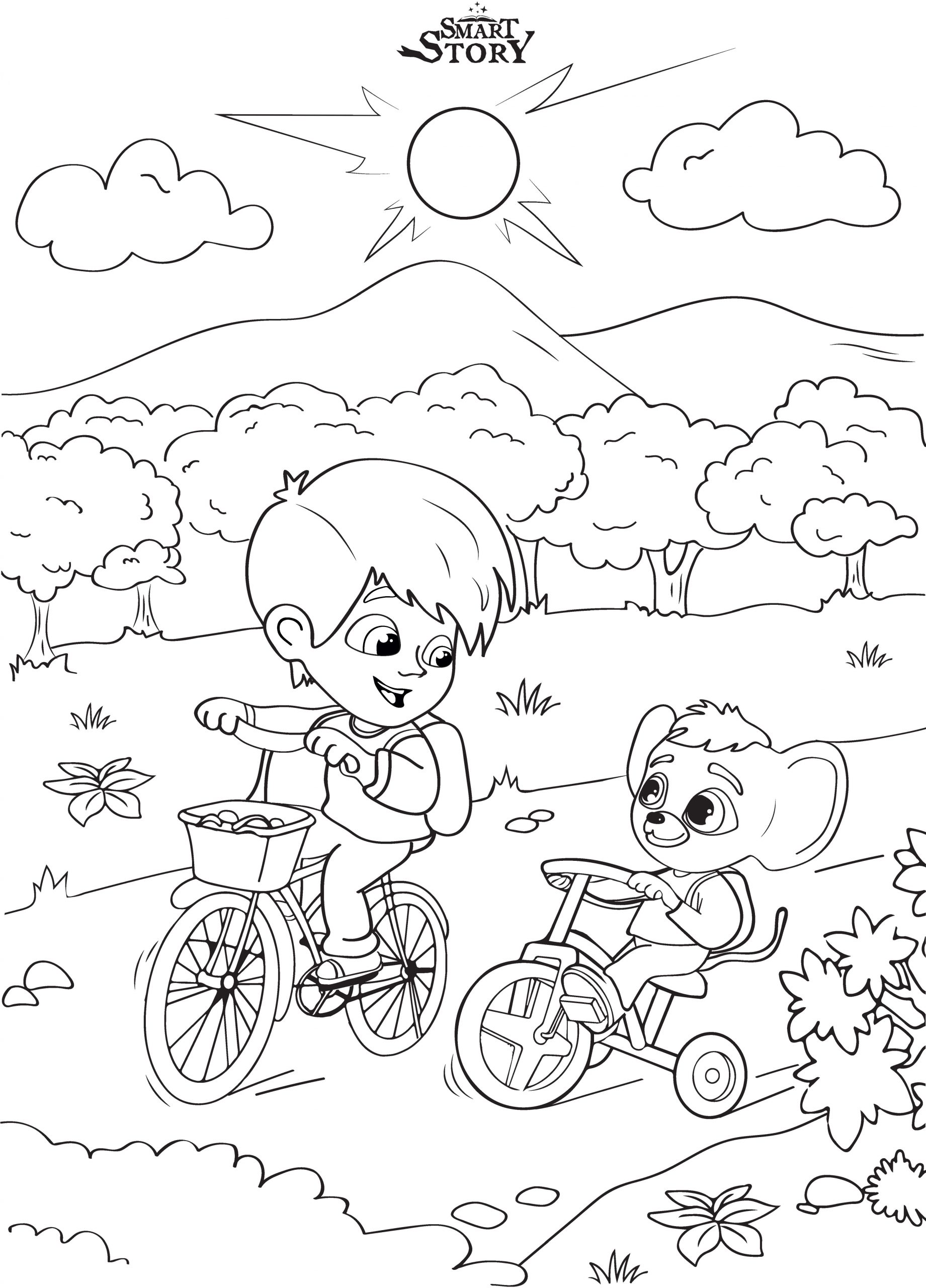 Coloring Book from Smart Story
We at Smart Story are offering you a free personalized coloring book. This free coloring storybook is filled with swirls of lines that will bring life to the child's colorful imagination. It is a tale of a little boy named Pete and his companion mouse Squeak and their adventure outside in the open, taking part in many summer activities. They do things like fishing, biking, rafting, and exploring. The day ends with the two taking in the breathtaking scenery and watching the sun disappear behind the mountains.
Get Free
This free 10-page coloring book is a beautiful example of what Smart Story – Personalized Books can create for your child. It will allow them to get involved in an adventure story and bring it to life. Our writers and artists can create a personalized story coloring book where your child has the adventure experience. Our custom coloring pages are brought to life with your child in mind. Your child will be much more willing to read the short story and color the pages because they are magically taking part in the fun. As your child colors and brings each page to life, it becomes playful and entertaining. To get a copy of the free story coloring book, go to https://smartstory.info/design/coloring-book-1.
Best Coloring Books For Kids List
Check price
This innovative coloring book is about creating the imaginative, wonderful character of a girl. The twenty-two-page coloring book promotes girls to believe in genuinely confident, courageous, and lovely expectations of what the world can offer while empowering themselves. The book has black-and-white drawings that explore concepts such as courage, glamour, strength, creative thinking, and independence.

This book contains hundreds of whimsical doodles, including butterflies, natural scenes and astronauts, scenes of unicorns, science and culture, trees, flowers, a castle, bows, sea waves, animals, hearts, cats, rainbows, camper scenes, dragons, stars a gardening scene, a microscope, a tree-house, and a telescope.

For emerging artists, this book is a great choice. It serves well with art supplies like pencils, color pencils, gel pens, and markers. It also pairs well with craft supplies such as glitter glue and stickers.

This inspiring book stands out in a way that strengthens girls and uplifts them more than other products on the market.
Check price
This coloring book for a child is full of exciting and happy unicorns. It's for children who love unicorns. The coloring book is for ages 4 to 8. The style of a standard children's coloring book with a matte cover will bring about an enjoyable time.

This book is designed with a lot of lovely unicorns and great backgrounds that are one-sided. It has lovely pictures for children under the age of 8 years. Inside are rainbows, stars, grasslands, and houses; it's good for preschool and primary school children. It is a joyful place for children to go and have fun with their little fingers.

The book's coloring activity will improve your children's motor skills, help them relax, and expand their minds.
Check price
Melissa & Doug Water Wow includes three watercolor activity pads. This three-pack coloring book is reusable pads for children that include farm, safari, and reusable pages below the sea. Each of these colors is a spiral pad with four reusable pages and a rechargeable water pen that works when you keep it on the cover, making it an exciting travel activity. It encourages the development of multiple skills. These books on water painting for children promote fine motor skills, early writing, and reading and are a visual delight.

This book applies to children from 3 to 7 years of age. The water activity pad three-pack reusable color makes it fun for children; add the colorful pad for even greater play and learning.
Check price
The Paw Patrol book sets are available in two editions. This book is the 96-page version. Your child will be used to the cartoon characters Marshall, Chase, Rocky, and Zuma. The Paw Patrol. Even as you sit and color with your child, you'll have the opportunity to discuss their favorite character and their adventures. This set also contains games, word search, mazes, and problem-solving pages. Crayons and markers are not included in this set. This set is also suitable for ages 2 to 4, but your child's understanding level is considered in the games, word searches, and mazes.
Check price
My First Big Book of Coloring is suited for crafts, with 192 black-lined illustrations filling each page. The simplicity of line drawings is enhanced when the lines are thick. Anyone just starting to have their cognitive abilities will love this book. It has bright white and thick paper, which makes it difficult for bleeding to occur.

This book works well, as the children won't have to write on both sides of the page, giving them more space to coloring. This book is excellent for helping your child learn new words and phrases while keeping them engaged for long periods. Not only is this book perfect for your child, but it also leaves time as a parent to get other daily tasks completed. This book is excellent for ages 3-5.
Check price
Two Hoots Coloring Mermaid is a little girl's coloring book that will take her to the mermaids' mythical kingdom. Each image in this book appears on only one side with oversized pages. Your daughter will be delighted with various colors because the mermaids, turtles, coral, and numerous sea creatures are brought to life with the colors of the rainbow. This book is excellent for children ages 4 to 8.

In this selection of scenes, mermaids find the hidden treasure, discover an island full of pirates, and discover a unicorn.

The play also takes place in an oyster for a night with a pearl all over the world. Many rainbows, constellations, and joyful creatures are still left in the sky to paint. This coloring book is a beautiful way to allow children to explore and utilize their imagination without making a big mess.
Check price
Your kids will learn and have fun with the colorful illustrations in The Spaces Coloring Book for Kids. It offers drawings of planets, space-ships, astronauts, and aliens. A child who loves outer space will love this coloring book. The paper is of high quality, with only one side per picture.

If your child has a thing for the stars, then this could be the most entertaining coloring book they will ever find. Some of the constellations featured are the sun, the stars, and comets. Your young one will enjoy learning about our universe. Because each page is removable, you can display the artwork around the home. The pictures have a semi-glossy finish. This book is for 7 to 10-year-olds.
Check price
This three-volume set of coloring books includes Disney Princess, The Alphabet Coloring Book, and My Little Pony. This entire 624-page booklet will give your daughter hours of enjoyment. Also included is a Disney Frozen coloring book with mini pouches packed with many stickers and markers.

This coloring book set offers loads of fun, with mazes, brainteasers, puzzles, and games for a young one to spend lots of time exploring a magical world. This set includes four colored crayons and cutouts of various Disney characters.
Check price
The packet includes two thirty-page color wonder pads, ten classic color wonder mini markers, and ten wonder mini-markers pastel colors included in this mess-free coloring kit. Markers for color marks and paper products of color wonder are for coloring without the mess. Only a special color wonder paper displays no mess markers.

Indoor home crafts with creative supplies are a way for children to enjoy a playful day. These pads are simple and fun children's crafts. They're a perfect way to keep your child busy and happy. The markers are healthier than other markers of this type. It wipes and washes off skin, clothing, and furniture. All color wonder markers and paintings work in a way that children can create with various supplies, colors, and objects. It is magic to watch the colors appear on wondrous color paper, magically safe and non-toxic, the perfect marker for kids 3 to 8 years old.
Check price
Teens will be entertained all day long with the 3D play darts activity set. This book is an excellent selection of jumbo puzzle pieces and has twenty-four well-designed, richly painted puzzles.

It has two distinct phases, exploration and application. Your child will start with creating colorful and exciting designs. The 3D set also involves putting everything together. Children will practice perseverance and organization skills as they learn where to put the pieces.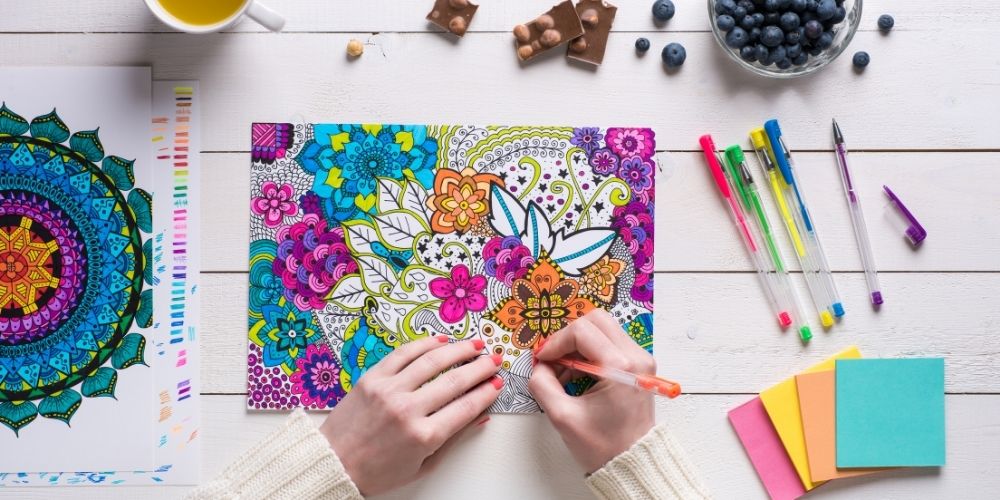 How To Pick a Coloring Book?
Coloring books serve the purpose of getting your child excited about creating art, even while educating them about the world, the ability to focus, and use their motor skills. Therefore, you should take the time to select the coloring book that will be right for them. Before purchasing a book for your child, here are a few things to consider:
Difficulty:
Each child is different and will develop at a different pace. Therefore, a younger child would prefer coloring pictures of fruit or animals, while an older child may be curious to work on puzzles and crafty projects.
Themes:
There is a unique story in each coloring book, so be sure to get a book that captures your child's interest thematically. If he or she likes unicorns or mermaids, or the planets, there are various coloring books to keep them working for hours.
Quality of Materials:
The materials that your child is working with should be strong. Your book should be made of quality paper. Often children will apply a lot of force when color, so the paper must withstand the force without smearing or tearing.
Picture Size:
The size of the pictures in the coloring book is significant. As children grow, the images should increase because they may either want to color them or draw them.
Age:
The act of coloring is relaxing, and this is good for all ages. Nonetheless, coloring is an activity most youngsters engage in from ages two to13. To be sure your child is coloring the most age-appropriate book, check the cover's age recommendations.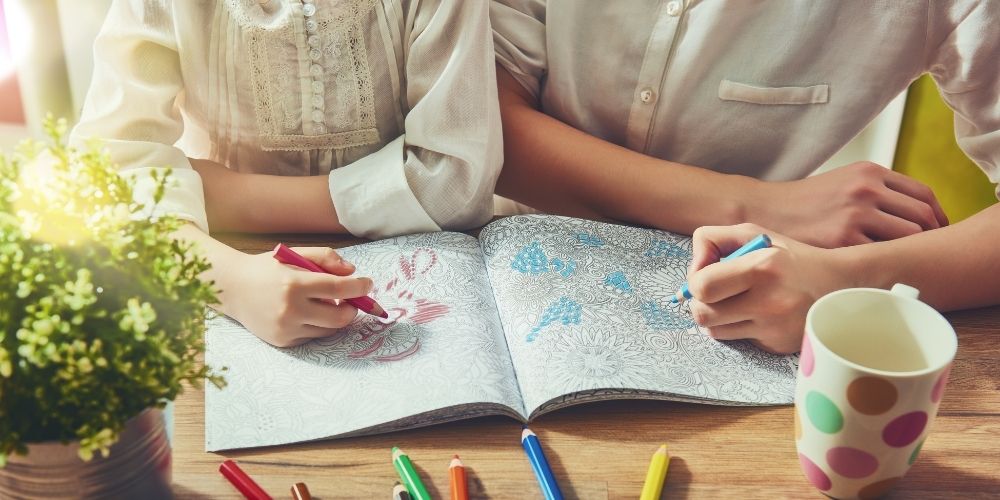 Coloring Books FAQs?
At what age should I introduce a book to a child?

During the early childhood period, roughly 12 to 15 months of age, It's best to get your child used to color or draw when they can hold or grip the crayon.

What are the benefits of a coloring book for a child?

Coloring helps with your child's hand-eye coordination, fine motor skills, as well as writing. It also teaches them coloring and color recognition.

How should I introduce a book to a child?

It's always good to provide a stress-free, comfortable setting where they can enjoy coloring and talking to build comprehension. Give your child a piece of white paper and draw what comes to mind with crayons, helping them stabilize the paper with one hand and draw with the other.

How long should coloring sessions be?

Thirty minutes of coloring time per day for 5-7 days is ideal. If your child is under two years old, you may already know that their attention span is limited. Beginning each session, choosing a favorite color can grab their attention. Then give them their freedom to be creative and talk about what they have drawn or coloring. Time will vary depending on the child. Each session can last between 20 and 45 minutes.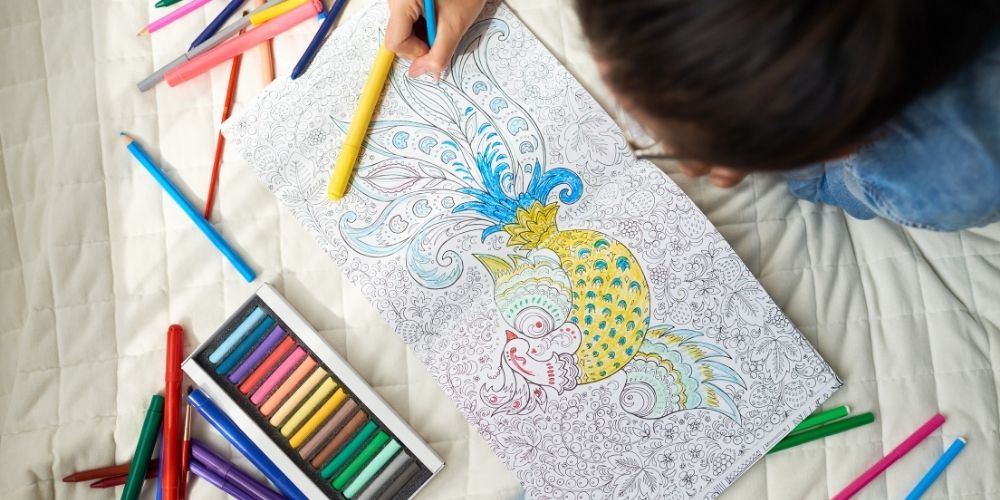 Final Thoughts
As children develop, we see a significant increase in their ability to think about colors and pictures. Getting personalized coloring books for your kids at each developing stage can be helpful. You can cultivate their imagination by allowing them the pleasure of expressing themselves. You can also enjoy watching them read exciting stories and draw twisting lines and colorful blends to make figures and creatures come to life on their custom coloring pages.
Our aim at Smart Story isn't only to enable your child to learn motor skills and colorful art. Still, it will allow you to cultivate a closeness between you and your child while they develop their imagination by having personalized coloring books.
---